|
Environmental Innovations Initiative
From East Palestine to West Philadelphia: a virtual panel discussion about the risk of train derailment.
Join us for From East Palestine to West Philadelphia, a virtual panel discussion on the risk of train derailment
March 20, 12:00-1:00pm, 2023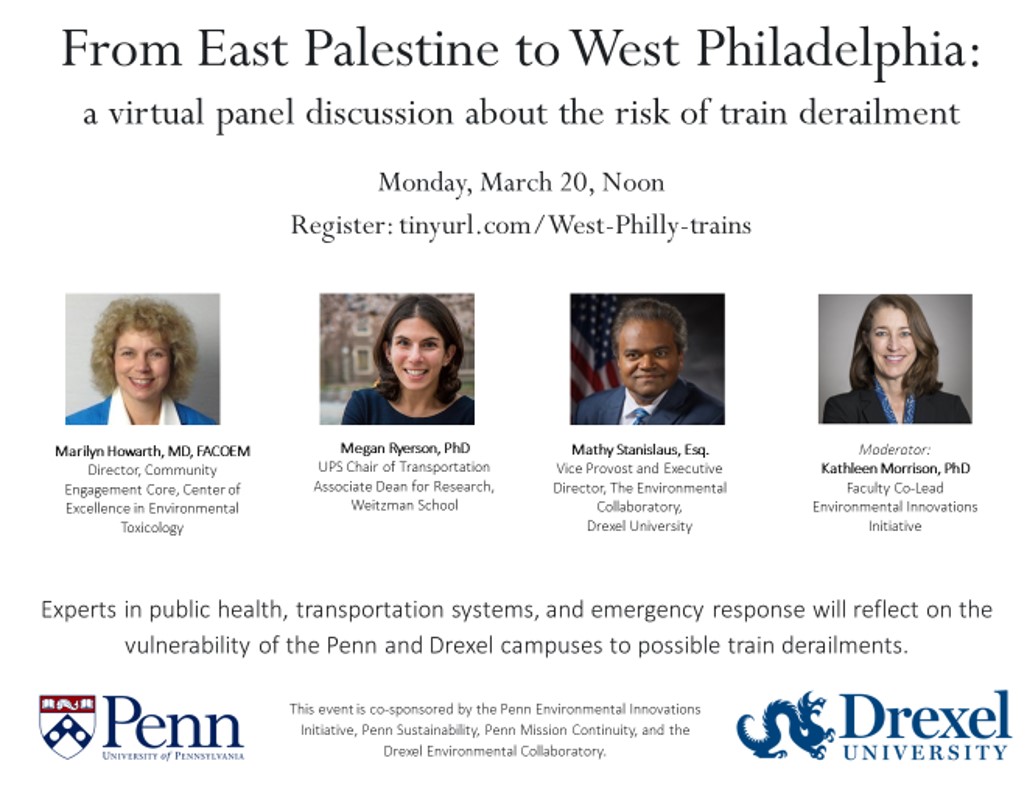 On Monday, March 20th at noon, join the Environmental Innovations Initiative as they co-host with Penn Sustainability, Penn Mission Continuity, and the Drexel Collaboratory From East Palestine to West Philadelphia, a virtual panel discussion on the risk of train derailment. During this event, experts in public health, transportation systems, and emergency response will discuss the vulnerability of Penn and Drexel campuses to possible train derailments. Learn about the potential impact on the community and the measures being taken to address the risk. Watch the event recording here.
Speakers 
Marilyn Howarth, MD, FACOEM
Dr. Marilyn Howarth is a public health expert with extensive experience in evaluating and treating patients exposed to various environmental hazards. Her career began as an Epidemic Intelligence Service Officer at the Centers for Disease Control in Atlanta, where she investigated and tackled occupational and environmental problems. After leaving the CDC, she worked with Cooper Hospital in Camden, NJ to reshape their Occupational Health efforts. She then joined the faculty at the University of Pennsylvania, where she served as the Director of Consultation Services for the Division of Occupational and Environmental Medicine. Dr. Howarth has published papers, taught courses, performed worksite evaluations, and helped patients and communities with the effects of environmental exposures. She has participated in various projects related to environmental health with organizations such as the CDC's Agency for Toxic Substances and Disease Registry, the National Institutes of Health, and the Camden County Technical Advisory Board. She is also a former president of the Pennsylvania Occupational and Environmental Medical Society and a founding professor of the University of Pennsylvania's Masters in Public Health Environmental and Occupational Health course. Currently, she is a member of the PHILAPOSH Technical Advisory Board and provides educational programs on Environmental Health topics to community and employee groups.
Megan Ryerson, PhD
Dr. Megan Ryerson is a transportation infrastructure planning expert who focuses on designing safe, efficient, and resilient transportation systems. Her research includes investigating how airports compete for air service, reconfiguring airline disaster planning, and planning proactive flights to reduce fuel consumption. Overall, her work supports the design of transportation systems that are safe, efficient, and resilient. In addition, she expands the pedagogical reach of urban planning, bringing megaregional and intercity transportation more squarely into city and regional planning.Dr. Ryerson is a Senior Fellow at the Center for Injury Research and Prevention and a fellow at the Penn Center for Neuroaesthetics at the University of Pennsylvania. She is also the Research Director for Mobility21, the University's DOT National University Transportation Center. Dr. Ryerson serves on several transportation-related advisory committees, including the Pennsylvania Department of Transportation Aviation Advisory Committee and the Women's Transportation Seminar (WTS) Philadelphia Chapter, and has received multiple awards for her work.
Mathy Stanislaus, Esq.
Stanislaus has a wide-ranging experience working with government, community organizations, and corporate leaders in the US and globally. He is passionate about building trust among diverse stakeholders to design and implement practical solutions that align environmental, economic, and social justice considerations. Stanislaus served as the Senate-confirmed assistant administrator for the EPA's Office of Land & Emergency Management under the Obama Administration, where he led programs to revitalize communities through the cleanup and redevelopment of contaminated sites, hazardous and solid waste management, chemical plant safety, and oil spill prevention. He was also a key figure in developing regulations and chemical plant safety rules, focusing on protecting vulnerable communities and first responders. Stanislaus represented the United States in G7 deliberations that led to the establishment of the first-ever global alliance to advance materials resource efficiency to decarbonize and conserve natural resources in global supply chains.
Moderator
Kathleen Morrison, PhD
Dr. Kathleen Morrison's research focuses on the historical ecology of Southern Asia, with a particular interest in changes in agriculture, land use, and the environment. She adopts a multidisciplinary approach, incorporating archaeology, history, and environmental science methods. Dr. Morrison is currently involved in several research projects, including investigating the long-term relationships between biodiversity and human land use, participating in Land Cover6k, a 'big data' project that utilizes archaeological, historical, and paleoenvironmental evidence to improve climate models, conducting network and spatial analysis of Middle period South Indian inscriptions and archaeological sites, and continuing her work on the archaeology of farming, food, and power relations in South India from the Neolithic to the Early Modern period.
Topics:
Health
Infrastructure
Philadelphia
Pollution
Resilience
Urban