|
Penn Program in Environmental Humanities (PPEH)
Line, Circle, Pivot: Narrating the Groundwater Crisis on the High Plains
PPEH invites you to a a talk by talented scholar Lucas Bessire on his book "Line, Circle, Pivot: Narrating the Groundwater Crisis on the High Plains". 
February 02, 2023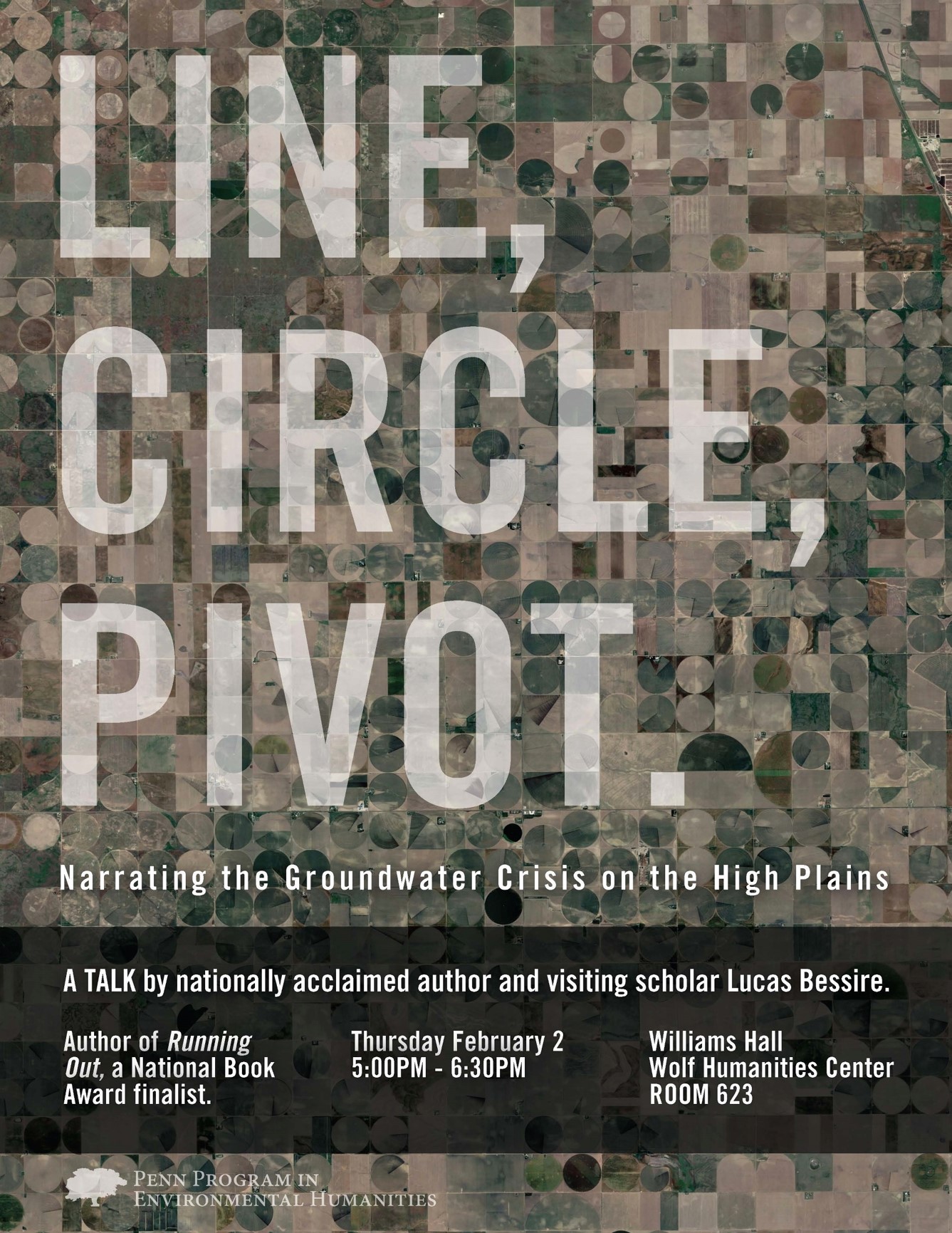 Join PPEH on Thursday, February 2, from 5:00pm - 6:30pm in Williams Hall for an urgent and unsettling meditation on environmental change, as well as a revelatory account of family, complicity, loss, and what it means to find your way back home. Lucas Bessire will engage in conversation on his book: "Line, Circle, Pivot: Narrating the Groundwater Crisis on the High Plains". 
The Ogallala aquifer has nourished life on the American Great Plains for millennia. But less than a century of unsustainable irrigation farming has taxed much of the aquifer beyond repair. The imminent depletion of the Ogallala and other aquifers around the world is a defining planetary crisis of our times. In this talk, Lucas Bessire will describe his journey back to western Kansas, where five generations of his family lived as irrigation farmers and ranchers, to try to make sense of this vital resource and its loss. His search for water across the drying High Plains forces a reckoning with the stark realities of industrial agriculture, eroding democratic norms, and surreal interpretations of a looming disaster. How do we tell stories about loss? 
Lucas Bessire is an American writer, filmmaker and anthropologist.  His work focuses on politics, environment and media in the Americas. An avid traveler, Bessire has conducted ethnographic fieldwork across the hemisphere, from the Ayoreo-speaking peoples of Bolivia and Paraguay to western Kansas to Arctic Alaska. Currently, he is Professor of Anthropology at the University of Oklahoma working on projects in northern Alaska and the Great Plains. His most recent book, Running Out: In Search of Water on the High Plains, was published by Princeton University Press in 2021.
Registration is encouraged.