Dipti Pitta, PhD, Named Mark Whittier and Lila Griswold Allam Associate Professor at the University of Pennsylvania's School of Veterinary Medicine
October 10, 2022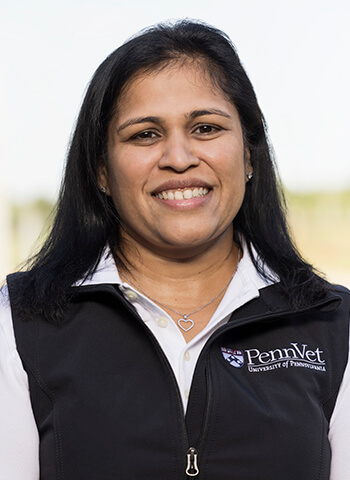 Andrew M. Hoffman, DVM, DVSc, DACVIM, Gilbert S. Kahn Dean of the School of Veterinary Medicine at the University of Pennsylvania (Penn Vet) has named Dipti Pitta, PhD, an internationally recognized scholar working at the interface of microbiology, agriculture, and dairy nutrition, the Mark Whittier and Lila Griswold Allam Associate Professor.
Dr. Pitta possesses an exceptional record of scholarly accomplishments. Her seminal work in controlling methane production from dairy cows was awarded a prestigious USDA-NIFA IDEA grant of $995,000 in addition to other current grants and research awards from the USDA, the Pennsylvania Department of Agriculture (PDA), the Center for Poultry and Livestock Excellence, and industry totaling over $2.5M.
Pitta's research program is integral to the new Center for Stewardship Agriculture and Food Security (CSAFS), where she serves as a member of the Center's leadership. In addition to the Center, she has also served as a member of research groups and academic committees across the University of Pennsylvania (Penn) including the Internal Advisory Board for the Center for Host-Microbial Interactions, the Committee on the Academic Status of Students, and the Penn Senate Executive Committee. Pitta served as a faculty director for the Penn Global Engagement Program; and has recently established a highly successful mentoring program for veterinary students, undergraduate students, and high school students in her laboratory.
"Dr. Pitta's work in microbiomics has become a resource for faculty in diverse areas of study here at Penn Vet," said Katrin Hinrichs, DVM, PhD, Harry Werner Endowed Professor of Equine Medicine, and Chair, Department of Clinical Studies at New Bolton Center. "Her collaborations have greatly increased the depth of the investigations of our clinical faculty, and she is an exemplar of what a Tenure-track faculty member can contribute to a clinical department."
Pitta earned her Veterinary Bachelors and Masters degrees in India and received her PhD from Massey University in New Zealand. Following post-doctoral fellowships in New Zealand and at the Texas AgriLife Research Center, Pitta joined Penn Vet's faculty as an Assistant Professor in 2011. She was promoted to Associate Professor in 2021.
"The awarding of a named, endowed professorship is the highest honor bestowed upon a faculty member at Penn and reflects excellence in scholarly achievement," said Hoffman. "Dr. Pitta embodies a commitment to scientific discovery, global engagement, mentorship, and service that is truly deserving of this honor."
Source:
Penn Vet
Topics: