Joseph Francisco Wins Philadelphia Section Award from the American Chemical Society
Joseph S. Francisco, President's Distinguished Professor of Earth and Environmental Science and Faculty Co-Director of the Environmental Innovations Initiative, has received the 2022 American Chemical Society Philadelphia Section Award.
September 28, 2022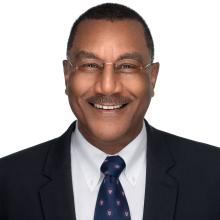 Presented annually, the Section Award is the top prize for members of each regional section of the American Chemical Society (ACS). The award will be presented on October 17 at a Department of Chemistry event that will feature a talk by Francisco titled, "A Fresh Look at the Chemistry Behind Acid Rain."
Francisco focuses on bringing new tools from experimental physical and theoretical chemistry to atmospheric chemical problems to enhance our understanding of chemistry in the atmosphere at the molecular level. This work has led to important discoveries of new chemistries occurring on the interfaces of cloud surfaces as well as fundamental new chemical bonding controlling these processes.
Founded in 1899, the Philadelphia Section is one of the oldest local sections and one of the largest, with more than 5,000 members. The ACS is the world's largest scientific society and a leading source of authoritative scientific information.
Source:
Penn Arts & Sciences
Topics:
Climate
Philadelphia
Pollution